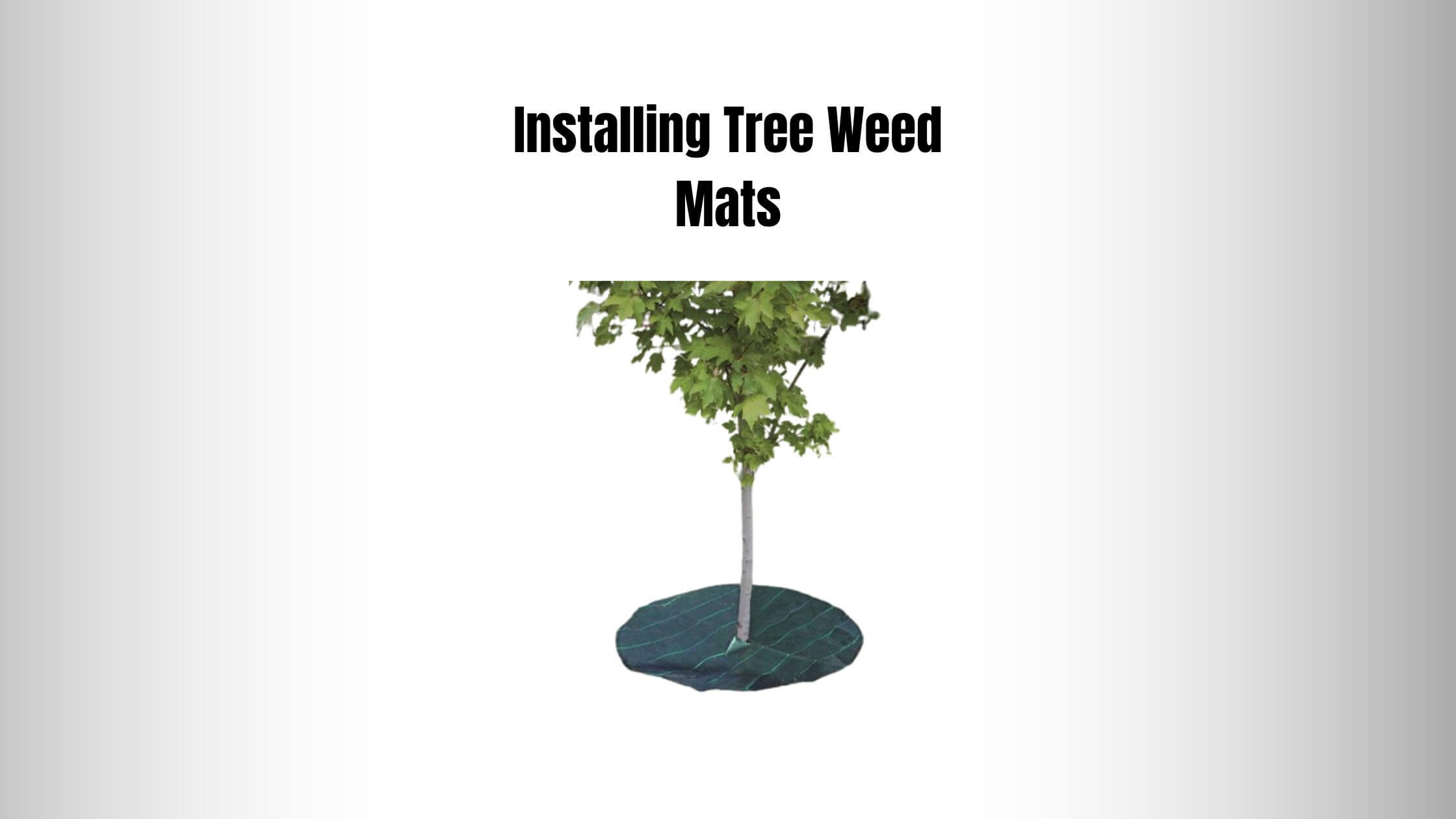 As an Amazon Affiliate, We Earn From Qualifying Sales. Read Full Disclosure Here

Today, in this article, we will discuss tree weed mats, an essential material used to protect young trees and shrubs. Many types of weed mats in the market are designed to shade weeds and prevent their growth, giving your new tree or seedling a better chance for survival.
Since your tree may face extreme competition for water and nutrients from weeds, using a weed mat will help you eliminate this competition and help your tree thrive. Believe it or not but many studies have shown that using a weed mat can significantly increase the survivability and growth of young trees.
Thus you need to know more about this particular tool for your planting process. That's first understanding what exactly a tree weed mat is
What Is A Tree Weed Mat?
A tree weed mat is a barrier you can place around newly planted trees or seedlings to control weeds' growth. It also helps protect the young trees from competition for water & nutrients.
In the current market, tree weed mats of various materials are available, like woven fabric, plastic, or a combination of both. Also, tree mats come in different sizes and shapes to help people to accommodate different planting needs.
I highly advise you to choose a mat that blocks sunlight and weeds but allows water to pass through to the soil. This weed mat will help your tree soil trap moisture and protect it from evaporation.
This mat gives newly planted trees a better chance for survival and growth. You are also likely to find mats that are made from solid sheets. This mat holds moisture in the soil for several weeks longer than any other porous mat.
According to the rule of thumb, installing the mat with the shiny side up is recommended so that proper water flows through the carpet and into the soil. The tree mats act as a great alternative to an excellent alternative to herbicides because they are environmentally friendly and won't harm your trees or the surrounding area.
Since installing a tree weed mat is pretty easy, it's not a challenging task, even for beginners. Interestingly, you even cover your tree weed mat with mulch or rocks to give it a more landscaped look.
But before you start installing the tree weed mat, it is recommended to cut the weeds/grass as low as possible. I recommend extending the weed control beyond the mat to help you control rodents. Hence, a tree weed mat is a must-have tool for every gardener and landscape enthusiast.
3 Advantages Of Tree Weed Mats
Prevent Weeds/Grass From Growing Or Regrowing 
The primary purpose of tree weed mats is to help prevent weeds from growing around the base of your trees while keeping your effort as minimal as possible. Since weeds will compete with your landscape trees for water, nutrients, & sunlight, I highly advise removing grass weeds or cutting them as low as possible. Alternatively, consider installing a treat to prevent the incredible future growth of weeds. Helps Retain Moisture in Soil: Tree weed mats are also designed to retain moisture in the soil around your trees. They help trap moisture in the ground and prevent it from evaporating, which can be especially important during periods of drought. This can help keep your trees hydrated and promote healthy growth.
Prevents Weed Whacker Potential Hazards 
Another great advantage of using tree weed mats is that they will help protect your property trees from damage caused by weed-whacking. If weeds are challenging to control, you might be tempted to cut them down with a simple weed whacker. Running a weed whacker on your lawn can damage your tree's delicate roots and trunk. Therefore if you use a weed mat, you will be able to protect your trees from this type of damage and prevent the need for weed whackers to be run around them. 
Reduces Maintenance Time and Effort
Finally, installing tree weed mats can help you reduce the time and effort you need to spend on maintaining your trees & controlling weeds around their base. Since a good quality tree weed mat that is properly installed will help prevent weeds from growing and retaining moisture in the soil, you won't need to spend as much time and effort on tree care and maintenance. Believe it or not, this is a time-saver, especially for busy gardeners and tree owners!
Do note that these are expected benefits of using tree weed mats, which you will likely notice very soon. Whether you're a homeowner, landscaper, or tree farmer, these mats are a valuable tool for promoting healthy tree growth and preventing weeds from taking over.
3 Disadvantages Of Tree Mats Weed Control
Overheating
In hot weather conditions, the tree weed mats can cause overheating in the soil, potentially harming your trees' health. Removing that tree weed maths during the summer or high temperatures, if possible, is essential. Overheating caused by tree weed mats in scorching weather can cause many issues, like tree root rot and leaf discoloration. 
Pest Infestation
Even though tree mats are proven to prevent weeds from growing, they can also trap moisture which is the perfect living conditions and breeding ground for insects and pests to thrive in. It is essential to look for signs of pest infestation periodically and use the fertilizer appropriately. Make sure you are also treating the trees with herbicides and pesticides as necessary on an occasional basis.
Difficulty in Removal
Once you have successfully installed a tree weed mat, it can be tough to remove, especially if the tree is enormous, thick, and tall or is not installed correctly.
Before you choose the right type of mat that suits your needs and the environment, I highly recommend you consider the pros and cons, which will ensure the best results for your trees.
How To Choose Weed Mats For Trees 
When choosing the right weed mat for your trees, there are a few factors you must always consider. 
Firstly, you should ensure that the tree weed mat is made from a durable material that can withstand all elements it's likely to face after installation. 
Secondly, you want to ensure the mat is large enough to provide adequate coverage around the base of your tree. Also, avoid choosing a huge carpet that may interfere with the tree's growth.
Finally, you should consider your specific needs and budget. I advise you never to prioritize your budget over a good-quality tree weed mat. 
3 Best Tree Weed Mats For Trees
Best Tree Weed Mat For New Plants 
Bosmere Tree Protection Weed Mat is an excellent option for a mat made from heavy-duty, UV-resistant polyethylene. This tree protection weed mat is designed to protect your young trees & seedlings from weeds and grasses. Since it comes with the user manual helping you to install it efficiently, you will find it very easy to install. Plus, this also comes in different sizes to fit trees of all sizes, giving you many options according to your size. 
Best Eco-friendly & Biodegradable Mat
If you like practicing organic gardening methods and techniques, this might be your mat. The Easy Gardener Weed Block is made from a porous fabric that allows water & air to penetrate through to the soil. It is also very effective in blocking sunlight and helping your tree soil retain moisture for extended periods. Since this mat is manufactured from a biodegradable material, it's a great eco-friendly option giving an end to its competitor.
Heavy-duty Tree Weed Mat
If you are looking for a heavy-duty weed mat, go with Dewitt Pro-5 Weed Barrier. This tree weed mat is made from a UV-resistant material that can withstand the elements and provide long-lasting protection for your trees. It's also tear-resistant and easy to cut to size.
FAQ
What Is The Main Purpose Of Tree Weed Mats?
The primary purpose of tree weed mats is to protect trees from weeds competing with them for water, nutrients, and sunlight. If properly installed, it also helps you retain moisture in the soil, saving you a lot of time with your tree care and maintenance. 
Are Tree Weed Mats Effective In Preventing Weed Growth?
Yes, tree weed mats are very effective in preventing weed growth. If you install a tree weed mat around the base of your tree, it will effectively block sunlight and limit the amount of water & nutrients available to weeds.
What Are The Best Materials For Tree Weed Mats?
Since there are varieties of tree weed Mats made from different materials, including rubber, woven plastic, and solid sheets, it can be difficult to decide the best one. As said, the best materials for weed mats are durable, lightweight, and water-resistant, depending on specific climate and environmental conditions.
Do Tree Weed Mats Have Any Negative Effects?
Yes, Tree weed mats can have some adverse effects, like overheating during summer when the sun scorches up in the sky. It usually promotes insect and pest infestation, which can also be challenging to control if not paid attention to at the right time.
Conclusion
Therefore, If you are worried about the weeds regrowing in your lawn and competing for water and other resources with your three, never mind using a tree weed mat. I highly recommend only using a tree weed mat if the specimen is not susceptible to infestation.
As I told you earlier, tree weed mats are a practical solution to prevent weed growth and protect your trees. Since tree weed mats come in different materials with n pros and cons, I recommend you choose the durable one.
Also, consider the type of soil and tree you currently have to find a suitable right mat. Even though there are many benefits of installing a tree weed mat, there can also be some adverse effects, like the promotion of infestations due to overheating in extreme temperatures or hot days.
I tried to give you all the information you need about tree weed maths and its advantages and disadvantages. So if you want to protect your new tree and seedling from herbaceous weeds while improving its chances of survival for better growth, you should consider installing a tree weed mat.
Using a weed mat can keep weeds at bay and ensure that your trees receive all the resources they need to thrive without too much effort or competition. If you find this article helpful, then consider sharing it.
Your share will help many people learn about the benefits and possible adverse effects of using tree weed mats. Do check our other helpful articles on tree care and pest management. See you in the next post. Till then, take care and goodbye.