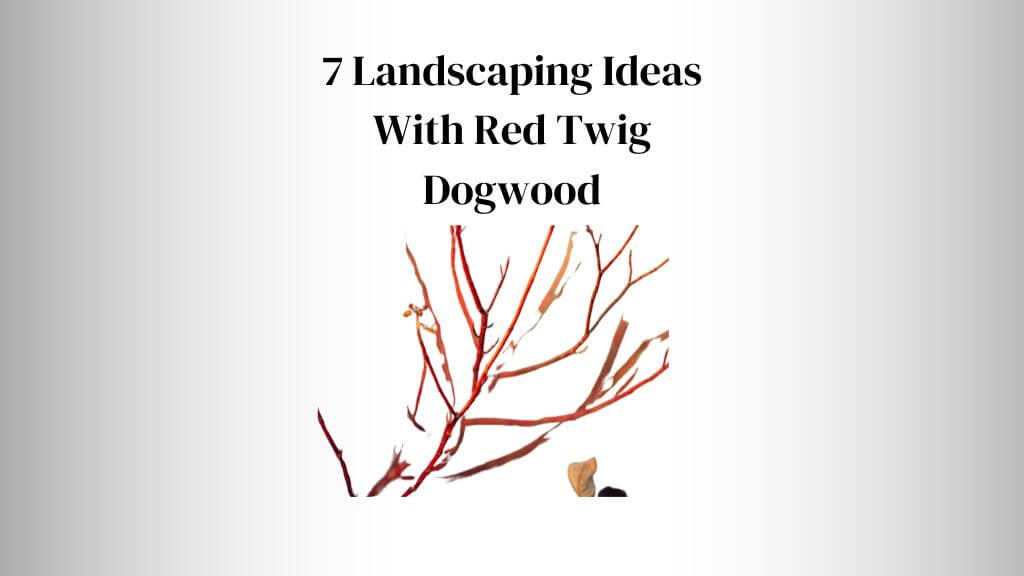 As an Amazon Affiliate, We Earn From Qualifying Sales. Read Full Disclosure Here

In this article, I will help you learn seven popular landscaping ideas with red twig dogwood that you can create & enjoy. If you need clarification with your tree and need help with where to use it, this article is for you.
But before that, get a perfectly healthy red twig dogwood with no damaged branches or leaves from the nursery. After getting a healthy specimen, you must decide what look you want. Let's take a quick look at some landscaping ideas with red twig dogwood trees to do that.
7 Landscaping Ideas With Red Twig Dogwood
Red Twig Dogwood for Natural Landscapes
Since the Red twig dogwood plant is native to North America and provides a valuable food source for birds & other wildlife, this specimen is an excellent choice for naturalistic or wildlife gardens.
If you're designing a naturalistic garden, make sure you're choosing plants that are native to your region to create a more resilient garden that requires less maintenance. When growing using red twig dogwood in a naturalistic garden, you should also consider practicing companion planting.
You can effectively pair red twig dogwood with other native plants for a cohesive look for with other dogwood varieties. Some excellent native companion plants for red twig dogwood that I like include coneflower, wild columbine, & wild blue indigo.
If you don't know "What Does A Dogwood Tree Look Like" it's better to visit a nearby landscape that has high concentrations of these trees. You'll be amazed by its beauty. These plants have similar growing conditions that can help you create a beautiful & natural-looking garden.
In addition, Red Twig Dogwood Companion Plants will provide many benefits for wildlife & pollinators, like offering habitat & food for many bird species, including the northern cardinal & American goldfinch. Pollinators like butterflies & bees are often attracted to the flowers of red twig dogwood.
Red Twig Dogwood in 4 Seasons Landscapes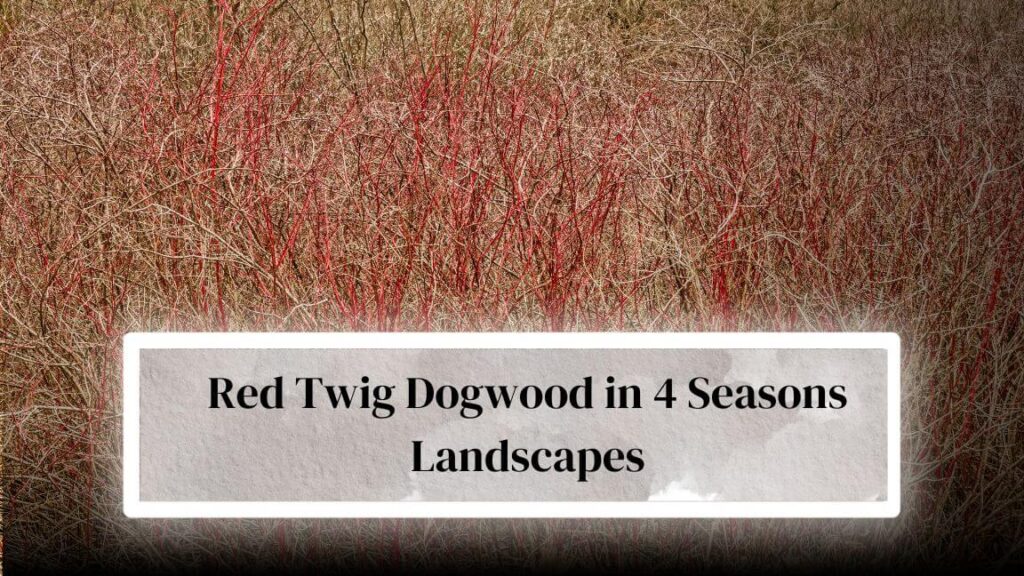 If you have four-season landscapes, consider adding Red twig dogwood creating year-round interest. When using red twig dogwood in a four-season garden, you should pair it with other companion plants that provide interest in each season.
In the spring, I often pair red twig dogwood with plants like daffodils and tulips to provide a burst of color in my landscape. In the summer, you can pair your red twig dogwood with plants like black-eyed Susans & purple coneflower for a beautiful & colorful garden.
In the fall, you don't need to add anything extra because red twig dogwood's leaves turn a beautiful shade of Red, making itself an excellent choice for fall landscapes. People are attracted to red twig dogwood because of their excellent winter interest.
If your area experiences heavy snow, you'll love these plants' bright red stems, which contrast beautifully against the snow. I usually pair red twig dogwood with evergreen plants like pine or spruce to create a more striking winter display. 
Red Twig Dogwood in Contemporary Landscapes
If you want to add some pop color to your landscape, consider having Red twig dogwood: this tree's texture and some pop color best suit modern or contemporary landscapes.
My garden has a red twig dogwood plant as a focal point against neutral tones. If you want to achieve a minimalist effect, plant red twig dogwood in large groups. Depending upon the type of planting techniques you are using, you can easily enhance the minimalist look of your landscape.
Planting a red twig dogwood in a container or raised bed creates a streamlined look due to elevating the shrub. Red twig dogwood is known to provide color, and it also serves as a textural element in contemporary landscapes or gardens.
Also, you can prune its branches to create a sculptural effect which will add more interest & dimension to your garden design.
Very Related: How To Prune Red Twig Dogwood Bushes
Red Twig Dogwood in Traditional Landscapes
My friend had a classic landscape that used red twig dogwood with other classic plants & flowers to create a cohesive design. If you also have a traditional landscape or garden, consider growing red twig dogwood and pruning it into a specific safety or form for a formal manicure look.
You must do annual pruning during the dormant season to maintain the size & shape of red twig dogwood shrubs. This will add aesthetic value and provide functional benefits to your traditional landscapes like its dense growth will create a natural privacy screen or act as a windbreak during winter.
Red Twig Dogwood in Rustic Landscapes
Another popular way to use red twig dogwood in landscaping is by forming a rustic or natural landscape.
Since this plant's vibrant color & branches lend themselves perfectly to a natural & organic look, you should consider using red twig dogwood in naturalistic plantings with other plants & flowers to create a cohesive design.
There are many types of companion plants that you can comfortably use for red twig dogwood in rustic landscapes, like native windflowers, groundcovers & ferns. There are a few fragrant plants and fruit-bearing trees that can also be grown alongside red twig dogwood if proper care is provided.
Therefore, consider learning "How To Take Care Of A Dogwood Tree." Plus, If you want to compliment the natural look of red twig dogwood, plant it with other specimens to create a harmonious landscape.
Red Twig Dogwood as a Focal Point
Who wants to use something other than red twig dogwood as a focal point, especially to enjoy their beauty during winter in the snow? Since this tree comes with a unique color & texture, it can be a great eye-catching centerpiece of your garden.
Consider planting several red twig dogwood trees together to create a more dramatic effect. However, when planting a tree as a focal point, make sure there is only one competing plant that may keep this specimen from being showcased with its unique feature.
You can easily achieve this by planting your red twig dogwood in a prominent location, at the end of the path, or in the center of your garden bed.
If you want your red twig dogwood to highlight its color more, consider using it as a backdrop for plants with contrasting uses. Or, you can my guide on "Where To Plant Dogwood Trees" where you'll get the ideas of 11 Best Place To Plant Dogwood Tree.
Red Twig Dogwood as a Hedge or Border
Another popular use for red twig dogwood is as a hedge or border. It's hardiness and dense growth makes it a great choice for creating a natural-looking hedge. You can plant red twig dogwood in a row to create a living fence or use it to frame a garden bed or border.
To create a well-manicured hedge, you must regularly prune it. It would help if you pruned Red twig dogwood in late winter or early spring, when the tree is dormant, to encourage new growth & maintain its shape. With proper care, your red twig dogwood hedge will provide privacy and beauty for years.
Achieving A Well-Manicured Look
As I mentioned earlier, you should always consider pruning your tree at least once a year. Ensure you prune your red twig dogwood in late winter or early spring when your tree is dormant or before new growth appears.
It is also important to remove any dead, diseased, or damaged branch as soon as possible to prevent diseases & infestations. I sometimes cut back one-third of the oldest branches from my trees to the ground so new growth takes place & sets in.
You can cut back the remaining branches by one-third to 1 half to maintain your red twig dogwood shape. You should know that proper care & maintenance is necessary to keep a tree thriving and looking beautiful in any landscape design.
Conclusion
This article has given you some great landscaping ideas with red twig dogwood that you can achieve. I like to use these trees as my garden bed's focal point or centerpiece. You can also consider using these shrubs as a borderline of sideways or driveways. Ultimately the choice is yours.
If you find this article helpful, then consider sharing it. Your share will help many people learn about the options that can be created using trees in a landscape.
It would help if you considered checking our other articles on dogwood care and management shared on this website to help them thrive & stay protected from physical or environmental damage. See you in the next post, till then, take care & goodbye.