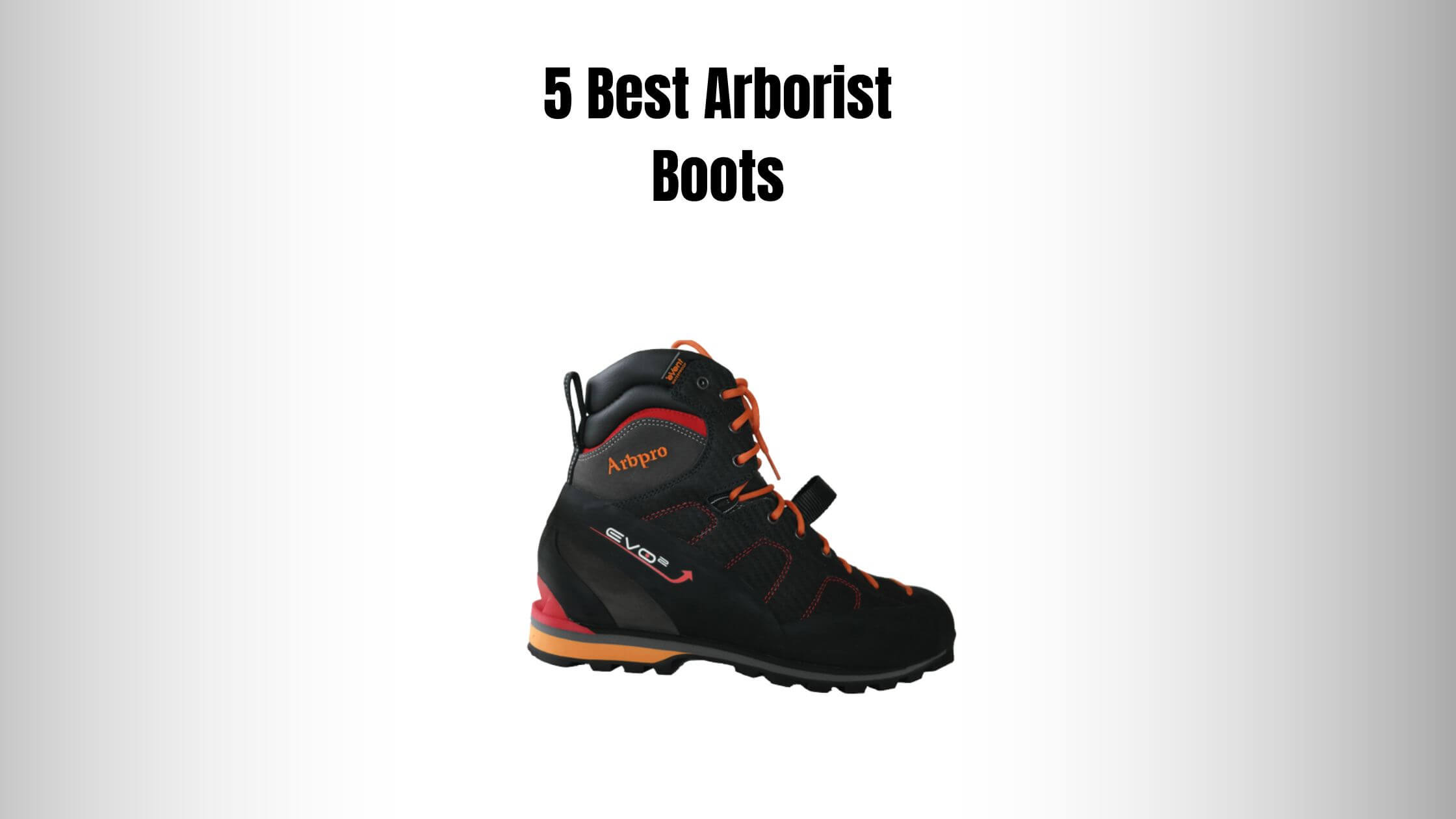 As an Amazon Affiliate, We Earn From Qualifying Sales. Read Full Disclosure Here

Since arborists are in high physical demand in the United States, you should have the right gear to ensure safety and comfort. One of the essential pieces of equipment for an arborist is a pair of high-quality boots.
Whether you are looking for arborist climbing boots or work boots, we will explore all types of boots available on the market to find the best pair for your needs and preferences.
Arborist Boots are specially designed to provide extra comfort, support, and protection, which is required for working and climbing trees. Thus, You should get one to ensure your safety.
Most arborist boots available in the market feature reinforced steel toes to provide you extra protection against falling debris. Some other boots offer additional features like spikes or spurs, which can help you better grip your climbing ropes or the tree trunk.
If you are looking for those types of boots, then hold on. With so many models and different bands available, choosing the right one or where to start can be confusing.
Best Arborist boots on the market include Andrew, Haix, Abpro, Meindi, and Red Wing, among others. Whether you are a seasoned gardener or just starting, this guide will help you find the right pair of boots.
5 Factors to Consider When Choosing Arborist Climbing / Arborist Working Boots.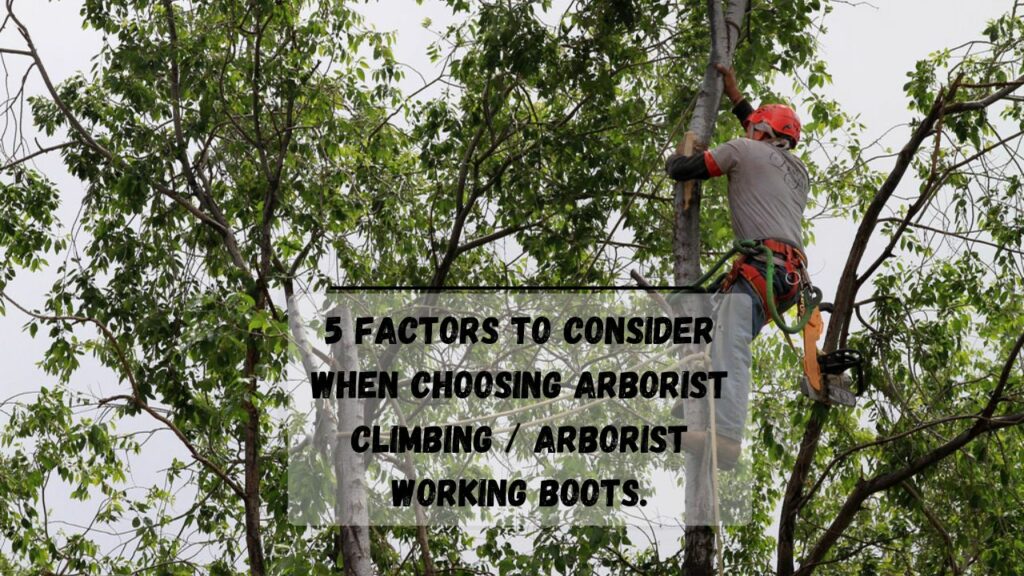 Purpose. 
The first factor you should always consider is the type of work you will do. For example, climbing boots tend to be lightweight, providing great protective features when climbing rope or tree trunks.
On the other hand, working boots offer extra protection against heavy-duty jobs on ground level. First, determine the type of work you will be doing to understand what kind of boot you will also need.
Comfort.
Choosing the right pair of boots that fits you well and feels comfortable to wear even for an extended period is essential. It is crucial to select the best fitting and lightweight design to reduce fatigue during long working sessions.
By keeping this in mind, I have provided a few recommendations below to increase your overall productivity while feeling comfortable.
Durability, Stability, Support, & Protection.
Since you will be working on high ground, get a durable boot. It should also have good support and stability since you will work on trees while balancing and maintaining your footing. Some work can be tough on your boot; therefore, choose the one that offers good protection against impacts and even cuts. 
Breathability and Water Resistant. 
Choose the one that offers excellent breathability for extra comfort. Water-resistant boots will help you work in wet conditions while keeping your feet dry and comfortable.
Budget. 
Consider your budget when choosing an arborist boot, as the cost of the boot will vary widely depending on features and brand. It is essential to select the boot that offers grade value for money. Sturdy, high-quality pairs should be your priority, as you will need a safe and durable boot. Here are three types of arborist boots.
3 Types of Arborist boots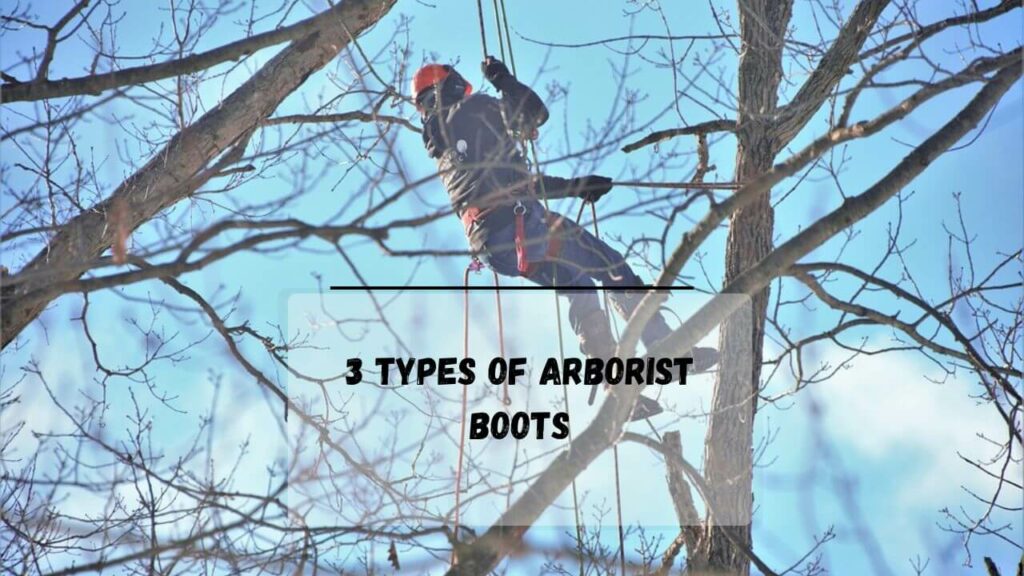 Arborist Climbing Boots. 
These boots are specially designed for climbing trees, featuring reinforced toes and heels to protect your feet from impacts and abrasion while ascending or descending the tree. Climbing boots also feature rugged soles for increased stability and precision when climbing spikes. You will also have strong ankle support when moving through the branches.
Arborist Working Boot. 
This type of boot is designed for general ground-based tasks like chopping wood using equipment or walking on rough terrain. It comes with a steel toe that offers extra protection and ankle support.
Remember that this provides a different level of support and stability than climbing boots but is suitable for ground-based heavy-duty tasks or working on wet ground.
Arborist Chainsaw Boots. 
Arborist chainsaw boots are specially designed for works that involve chainsaw use. This type of boot comes with a reinforced sole and ankle that protect you against strikes.
It also has a thicker outer layer to protect you against cuts from the chain. These boots are also equipped with steel toe protection and good traction suitable for working on rough terrain.
Climbing Boot vs. Working Boot vs. Chainsaw Boot
When choosing between climbing boots, work boots, and chainsaw boots, it is better to consider the type of work you will be performing and doing, including special hazards involved.
For example, if you climb trees a lot and move from one branch to another, get a climbing boot with spikes/spurs, as it would be an ideal choice for your safety and better manoeuvrability.
However, a working boot would be a better option if your task is involved on the ground level. Remember that chainsaw-involved work should always be done with appropriate gear like gloves and chains of boots. 
Best Boots for Arborist 
Since You will have to pay attention to the maintenance and care of trees which often involve pruning, heavy lifting, and climbing, it is necessary to have safety gear, including boots that offer safety, comfort, and durability. Here are the five best ones.
Arbpro Arborist Boots
Arbpro Arborist Boots are specially designed by keeping the needs of an arborist in mind. Since it features a Steel toes design, high traction soles, and waterproof material, you are guaranteed to get the safety and comfort you are looking for while carrying out your duties.
It is also designed to provide superior stability and support, which is essential if you spend long hours climbing, standing, and working on your feet. One of the most significant advantages of this boot is its high-quality material and durability.
Since these boots have been designed to last longer while offering superior protection to your ankles and feet, many users also find them heavy and stiff. If you keep up with the boot maintenance, it can feel comfortable for an extended period of use.
SCARPA Arborist Boots
Another great good that is known for its high-quality materials and better construction is this one. The biggest advantage of this boot is it is waterproof and made from breathable fabric, which will keep feet sweat-free, dry, and comfortable.
It is also very lightweight and flexible, making it easier to move. If you spend long hours working, this is the one to get for its lightweight feature and extra ankle support with steel toe.
Like the previous one, you will get additional protection for your feet and ankles. The biggest benefit is its superior comfort. Compared to the previous one, this one might not be as durable as it looks.
It is important to pay attention to its maintenance to prevent the need for replacement more frequently. According to its user, this is one of the most comfortable options available in the current market.
Arbpro Clip N Step Arborist Climbing Boots 
Arbpro Clip N Step Arborist Climbing Boots is primarily known for its unique design that helps you clip rapidly and easily into a climbing harness. It is an essential feature for our arborist to get into position while climbing the tree.
It is also made from durable, high-quality material that can withstand harsh conditions and bad weather. It also provides long-lasting protection to your feet for many years to come.
According to the manufacturer, these boots have been designed for comfort featuring cushioned soles and breathable material. Therefore you are likely to experience reduced sweat and discomfort during long work days.
Even though this is durable and lightweight, it may only be suitable for some individuals with wider feet. Since it also comes with a higher price tag than other arborist climbing boots, it is its most significant disadvantage compared to its competitor.
There are many advantages of having this boot like it is comfortable to wear and provides excellent support for the feet, ankles, and legs. It is also lightweight and quick and offers easy clipping with a climbing harness. With proper maintenance, this boot is also durable and long-lasting.
Red Wing Arborist Boots
If you are working with chainsaws, there are many things to look for. Your boot should be durable, waterproof, and protective against chain cuts and impact. It should also offer excellent traction and comfort when working for an extended time.
It is essential to check the boot chainsaw protection rating, which refers to the level of protection it will provide against cuts and impacts. Several different ratings range from basic safety to a high level of security.
So choose the right level of protection according to the work type. Since there are so many options, you can get confused. Red Wing Arborist boots are suitable to be used for heavy-duty work that involves the use of a chainsaw or any other heavy machinery.
Best Arborist Boots For Spurs.
This type of boot feature helps reach high places in trees. You can get spurs, also known as spikes, separately and attached to your existing boot. Motivations or points are usually attached to the boot for extraction and support when climbing trees.
Many professional arborists prefer using catalysts to maintain superb balance, stability, and control when working on the tree trunk or moving through branches—choosing a boot with good soles to provide better traction against slip and fall when climbing trees is a must. Some of the best arborist boots are given below.
3 Best Arborist boots for Spikes
Andrew Arborist Boots
Meindl Arborist Boots.
Conclusion
I tried to give you all the information about the five best arborist boots. Suppose you feel educated and found the correct type of pair that suits your needs and preferences; congrats.
Consider sharing this article, as it will help many people better understand and ensure their safety when choosing climbing or working boots for arborist work. When selecting an arborist boot, consider the type of work you will be performing along with the comfort and fit you need.
You should also check the level of protection, support, and stability it offers. Most boots provide water resistance, comfortable, better grip, and traction. It is better to weigh the pros and cons before choosing one.
Also, do consider your budget. If you find this article helpful, check out our articles on getting IAS certification for arborists. See you in the next post, till then take care and goodbye.