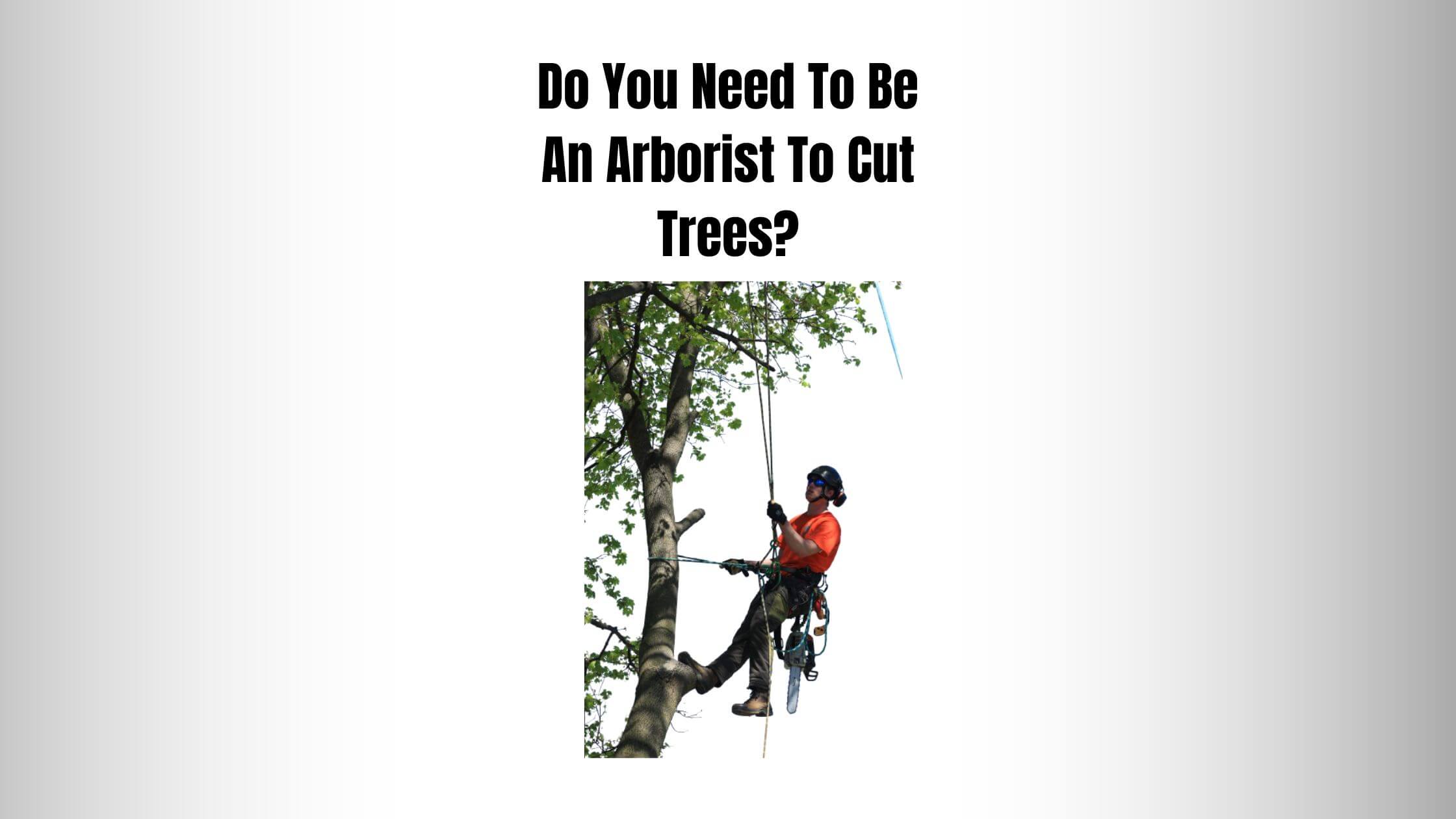 As an Amazon Affiliate, We Earn From Qualifying Sales. Read Full Disclosure Here

Are you considering cutting down a tree in your yard but don't know whether you need to hire an arborist? Don't feel despair. Today, in this article, I will answer the question: do you need to be an arborist to cut trees & if yes, what should you do right now?
Even though Tree cutting can seem simple, it's essential to understand the pros and cons of having a professional handle the job. In this article, I will help you learn why you should hire an arborist.
We will further discuss what you should look for in a qualified arborist and the cases when you don't need a certified arborist. By the end of this article, you'll have a clear understanding of whether or not being an arborist or getting an arborist is necessary for your tree-cutting needs.
Do You Need To Be An Arborist To Cut Trees?
No, you don't necessarily need to be an arborist to cut down a tree, but I'll recommend consulting one. Since cutting down a tree can be a dangerous and complex task, Cutting it yourself can be very dangerous if you have no experience with handling tools or are not familiar with the proper techniques.
If you plan to cut trees by yourself, this can be dangerous for you and your property. I recommend you call An arborist, a trained professional specializing in tree care,  Management, and maintenance.
Therefore, if you want to get rid of any particular tree from your landscape or properties, call someone with the knowledge and expertise to do the job safely and efficiently. If you hire an arborist, 
he will help you ensure that the tree is cut down systematically, preventing damage to your property, environment, and surrounding landscape. So,  even though you can cut down a tree without being an arborist,  I highly recommend leaving it to the professional or arborist who is an expert in removing Big trees. 
Pros & Cons Of Calling An Arborist To Cut Trees
7 Pros
Some people prefer cutting a tree because of its lousy appearance or improper shape. In this case, calling An arborist will help you reshape and prune the tree correctly to enhance its appearance.
Since Arborists are trained professionals, calling them will help you cut the trees properly and safely.
In addition, Arborists will also have the right tools & gear that is much needed to do the job efficiently and safely without putting anything or anyone in danger.
If you are looking to cut trees that are suffering from a disease, calling an arborist can identify and address any potential health issues with the tree before cutting it.
Hiring an arborist minimizes liability risk in case of an accident during tree cutting.
After cutting the tree, you can be very concerned about properly disposing of it. Therefore having an Arborist will help you properly dispose of the tree debris.
Since cutting a tree is time-consuming and Labour intensive work, Hiring an arborist will save you a lot of time compared to doing it yourself. This is also an advantage and the best option if you don't have experience or the proper tools.
3 Cons
Hiring an arborist can be more expensive and make a big dent in your pack pocket or saving if you are not prepared. For many people, this concern tends to be the primary cause of avoiding an arborist & cutting the trees themselves, which is risky.
During peak season, you may find it hard to get an arborist consultation appointment because Not all arborists are always available. This can further cause delays.
Not every arborist will help you cut down a trip because some are Trend and able to handle specific types of trees or projects, which limits your options,  especially during peak season.
3 Solid Reasons Why To Hire An Arborist To Cut Trees
Even though there can be many reasons, you might consider hiring an arborist to cut your trees. Below I am mentioning three of the most important:
Safety
As I told you earlier, tree cutting can be significantly dangerous when cutting a large tree. You should always hire an arborist if the tree is large, close to power lines, or in an awkward location.
An arborist Is a highly trained professional with all the training, experience, and equipment required to handle these situations safely. They'll also be able to help you learn specific risks associated with the job Or your property while taking necessary precautions to ensure that everyone stays safe.
Expertise
Since arborists deeply understand trees and how they grow, They will be the best person to correctly prune and cut trees that promote healthy growth and prevent damage to your surrounding structures, landscapes, Gardens, or property. Executives are going to help you avoid costly mistakes as well.
Convenience 
I don't need to tell you that cutting trees is time-consuming and physically demanding. Therefore, if you want to avoid spending hours or even days on this job, I recommend contacting an arborist.
By calling an arborist, you'll be able to sit back, relax, and let the professionals take care of everything. Thus you can put your time and energy into focusing on other things.
So, if you're considering cutting trees on your property, hiring an arborist to handle the job is worth hiring since an arborist has the expertise, safety training, and equipment necessary to get the job done right and keep everyone safe.
When To Call An Arborist? 5 Cases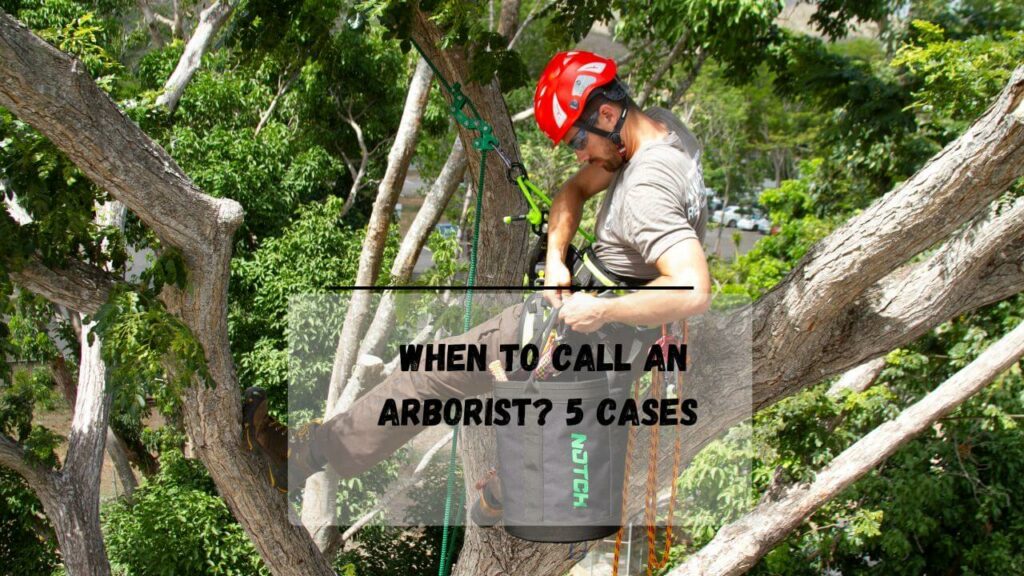 Sure, here are five situations when you might want to consider calling an arborist:
When you have large, make sure trees that require pruning or removal. An arborist can assess the situation and determine the best action if you have overgrown dead or diseased trees. They have the training and experience to safely remove large branches of orienteers without damaging surrounding property.
Suppose you're concerned about tree health and stability. If you have trees that appear to be struggling, an arborist can diagnose the problem and recommend treatments to help the tree recover. They can also identify potential hazards, such as weak branches that could fall and cause damage, and take steps to address these issues.
When you're planting new trees or designing a landscape, an arborist can help you choose the suitable tree species for your yard and ensure that it's buried at the correct depth and in the right location. They can also advise on caring for your new trees and maintaining their health over time.
Suppose you're dealing with code compliance issues. Some cities have regulations regarding the height and spacing of trees, and an arborist can help you navigate these requirements. They can also assist with the permit process for tree removal or pruning if necessary.
When you want an objective assessment of a tree's value, an arborist can assess the overall health, stability, and value, which can be especially helpful if you dispute with a neighbor or buy or sell a property.
What To Look For In A Qualified Arborist?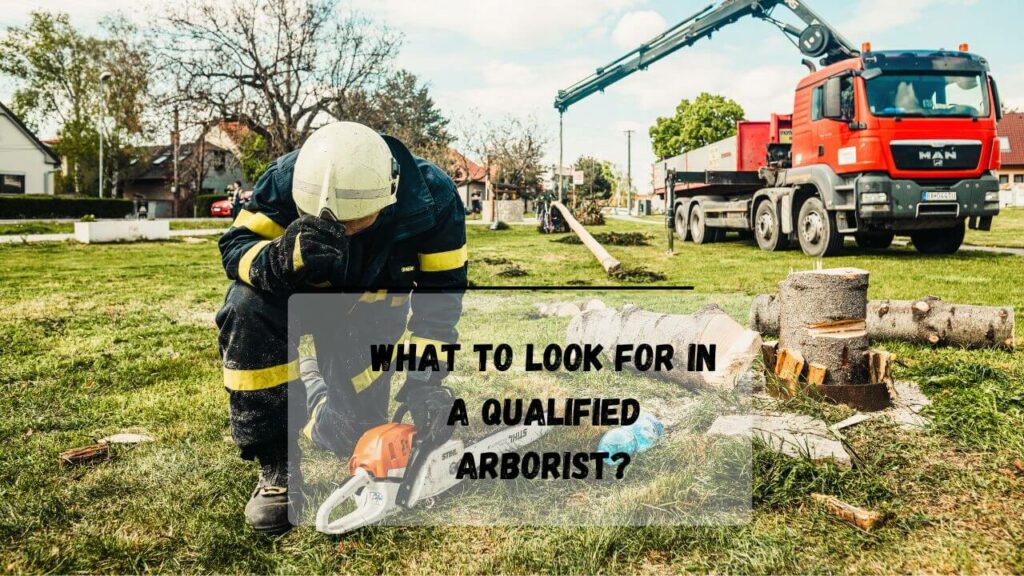 If you're looking to hire a professional, you can help with trace; there are a few things you need to consider first to ensure you're getting a qualified and certified professional arborist. Here are the five most important things  you should always look for:
Certification: Ensure that the arborist you're considering is certified by the International Society of Arboriculture (ISA) or another reputable organization. A proper certificate demonstrates that the arborist has received the necessary training and skills to work safely and effectively cut trees.
Insurance: Another thing ant to look at is the arborist you are consulting is insured in case anything goes wrong while wo your property or cutting down a tree. Getting a certified professional will protect arborisarborist sentence of an accident. Therefore, you should never mind asking the professional for their certification and insurance.
Experience:  you should also ask about the arborist's expertise and the types of trees he has worked with professionally. Nd experienceNdabolished will have an excellent past track record and customer waitings. The more experience an arborist has, the better equipped they will be to handle any challenges that may arise while cutting down the tree.
References:  You should ask for references from previous clients to learn if the arborist has performed well and given the expected results. Many professional airbrushed also carry before-and-after photos of their work to demonstrate their experience and essential to provide you with an idea of their level of expertise.
Equipment: including down a tree will need safety gear and efficient equipment; an arborist has all of the necessary equipment, including a professional-grade chainsaw, climbing equipment, and safety gear. 
Conclusion
It's always best to consider hiring an arborist when cutting down trees. Since arborists are certified professionals with the proper knowledge, required skills, and Necessary equipment,  they are best at handling and cutting trees safely and efficiently.
Suppose you are thinking of choosing an arborist. In that case, there are a few essential factors to consider, such as their certification, experience, and insurance, which are necessary for both your and the arborist's safety.
Also, ask After before photos, experience, and questions about their methods and techniques to ensure you are getting a professional who is up-to-date with the latest industry standards.
If you are thinking of cutting a tree, hiring an arborist can provide peace of mind knowing that your trees are in good hands with no damages likely to occur on your property or landscape.
After reading this article, if you find this helpful, then consider sharing it. Your share will help many people learn about the benefit of calling an arborist to cut a tree. Do check our other practical guide on arborist consultation and their cost. See you in the next post, till then take care and sound back.