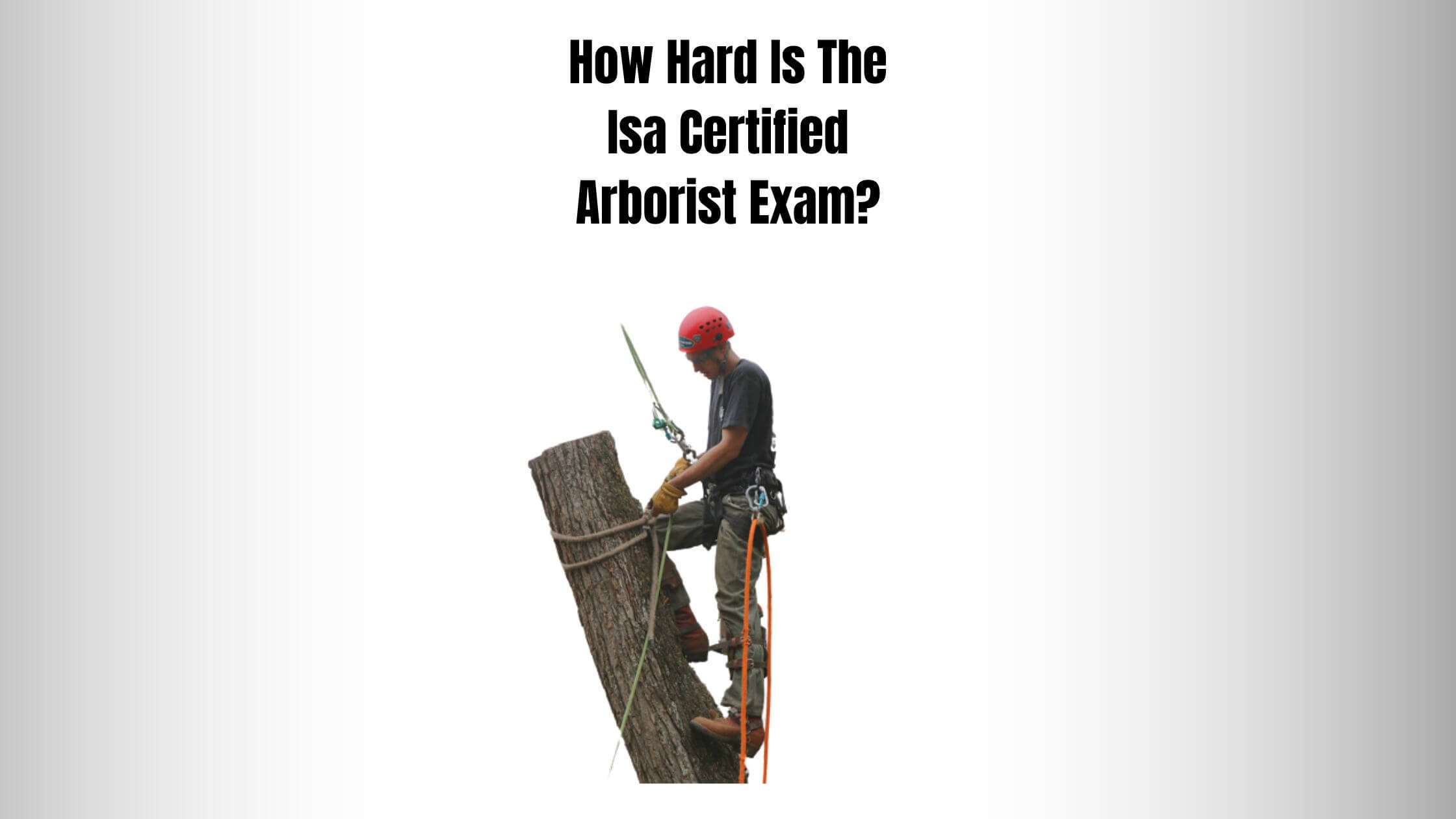 As an Amazon Affiliate, We Earn From Qualifying Sales. Read Full Disclosure Here

If you're thinking of becoming an ISA-certified arborist, It's a great goal and idea to have, But you may wonder, 'how hard is the ISA-certified arborist exam?' When it comes to pursuing a career in arboriculture, the International Society of Arboriculture (ISA) Certified Arborist exam is a crucial milestone.
This article will discuss how complicated the ISA-certified arborist exam is and whether it is worth your time and effort. After reading this article, you will likely know what level of difficulty you can expect from the exam.
We will take a closer look at the ISA Certified Arborist exam, including its format, content, and difficulty level. So read this article thoroughly, as it will help you decide if the IAS certificate is the right choice for you.
Whether you're an experienced arborist or just starting out, I will provide you with in-depth information about the ISA Certified Arborist exam. 
How Hard Is The Isa Certified Arborist Exam? 
An ISA-certified arborist exam can be challenging for some people as it tests your knowledge of trees, their care, and management practices. If you want to take this exam, cover topics such as tree biology, tree identification, pruning techniques, essential gardening tools and their purposes, and risk assessment.
You can take this exam if you are a beginner, landscaper, architect, arborist, tree care professional, or horticulturalists. Even though l, this exam can be challenging, you can crack it with the proper preparation.
Many people find time to be difficult for this exam, as you only get 3 hours to answer all 150 questions. With adequate preparation, you can save time in rethinking and rewriting. Some people think it's enough to demonstrate your knowledge on exam day if you are adequately prepared.
To understand if this exam will be challenging, you will need to know the time limit, scoring system, and types of questions you will be answering. In the next section, I will also help you understand what the exam content areas cover a wide range of topics. 
Types Of Questions. 
During the exam, you will encounter multiple-choice questions that will test your knowledge and understanding of arboriculture. It usually covers a wide range of topics related to tree care, its management, and risk assessment.
Time Limit. 
You will only have 3 hours to complete the isa certified arborist exam. It is a decent amount of time for some people, but to some, it is a challenging task if they need more preparation with the subject matter.
Therefore, you should pace yourself and manage your time wisely. Please don't waste time learning a subject related to our culture or Isis certified. Our body exam needs to cover its topic.
Exam content areas. 
As I told you earlier, the isa certified arborist exam covers a white range of topics related to arboriculture; here are a few subjects, for example, topics.
Tree biology
Diagnosis and treatment of diseases, pests, and other tree-related problems
Tree selection and installation
Pruning techniques
Soil management and tree nutrition
Tree identification
Urban forestry and tree care practices
Environmental and cultural factors affecting trees
Safety procedures and techniques for working with trees
Tree assessment and appraisal
Tree risk management
It is essential to study this topic thoroughly and don't waste your time learning any other concepts. You should understand all the concepts behind these topics to increase your chances of passing the exam.
Since the ISA Certified exam is designed to test your ability to apply your knowledge in a real-world situation, you should familiarise yourself with these topics before taking the exam.
How Long Does It Take To Become ISA Certified? 
The time it takes to become an ISA certified depends upon you and your ability. In general, if you acquire appropriate education and experience in arboriculture, you may pass the exam in one go. There are a few requirements for taking an ISA CERTIFIED EXAM AND BECOMING ONE. 
How To Become A Certified Arborist?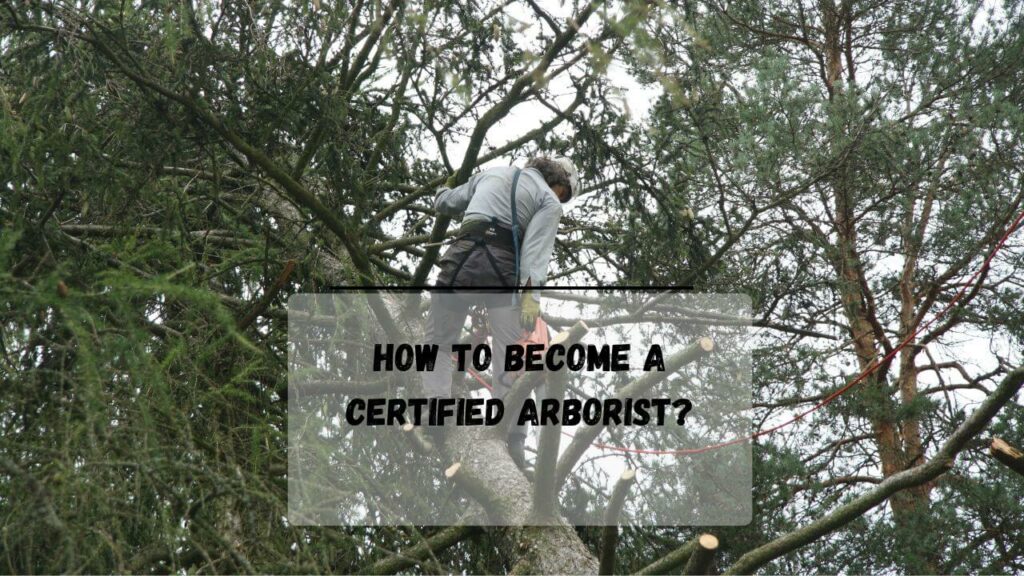 It will take some time to become one, but the process is achievable and straightforward. You need to acquire the necessary education and experience in arboriculture and then look at the Isa Candidate Handbook to understand what is required for a proper certificate.
Once you know all the requirements appropriately, you can complete the exam application and pay the fee. Study the recommended material and practice exams to get the desired/quicker success.
I recommend you take classes and tutoring before taking an actual isa certified Arborist exam at its designated testing center. After that, you are ready to take the exam and receive your result. If you pass, submit the certification fee to the isa, and then you are good to go. Here are a few things you need to keep in mind when trying to become ISA certified. 
ISI Certified Arborist Exam Cost. 
Yes, there are fees associated with taking an ISA-certified categorized exam. It covers all administrative expenses and the cost of the exam. It would help if you considered visiting the ISA website to determine the latest prices and payment options. On average, you have to pay between $125 to $180 if you are an ISA member. For nonmembers, it can go up to $300.
ISI Certified Arborist Eligibility. 
To become an ISA-certified arborist, you must meet the eligibility criteria set by the 'international society of arboriculture' aka 'ISA.' According to 2023, you must have a minimum of three years of experience in arboriculture.
Or you can also have a combination of education and practical arboriculture experience to meet its criteria. You should first gain at least three years of experience in arboriculture before applying for an ISA certification.
After that, gather all your documents & your work experiences, and three letters of reference if you are self-employed. All these will help you a lot in becoming an arborist.
ISA Certified Arborist Location And Time.
Since ISA Certified is an exam offered at many different locations and times throughout the year, it can take time to determine the exact date and place of the exam. You can visit their website or contact them directly to find the date and location of the recent upcoming exam.
ISA Certified Arborist Exam Application Submission
Suppose you want to become an ISA Certified arborist. In that case, you need to submit an application and provide all necessary documentation to help them review and determine if you meet their criteria. Once your application is approved, you can start preparing and proceeding with this scheduled exam.
ISI Certified Arborist Agreement. 
After you pass the exam, you will need to sign a certification agreement with the international society of arboriculture. This agreement will outline all the terms and conditions of your certification & responsibility that you will have to fulfill as an ISA-certified urbanist. As many have complained about losing their accreditation due to not paying attention to the agreement, I recommend you read it thoroughly.
How To Prepare For The ISA Certified Arborist Exam?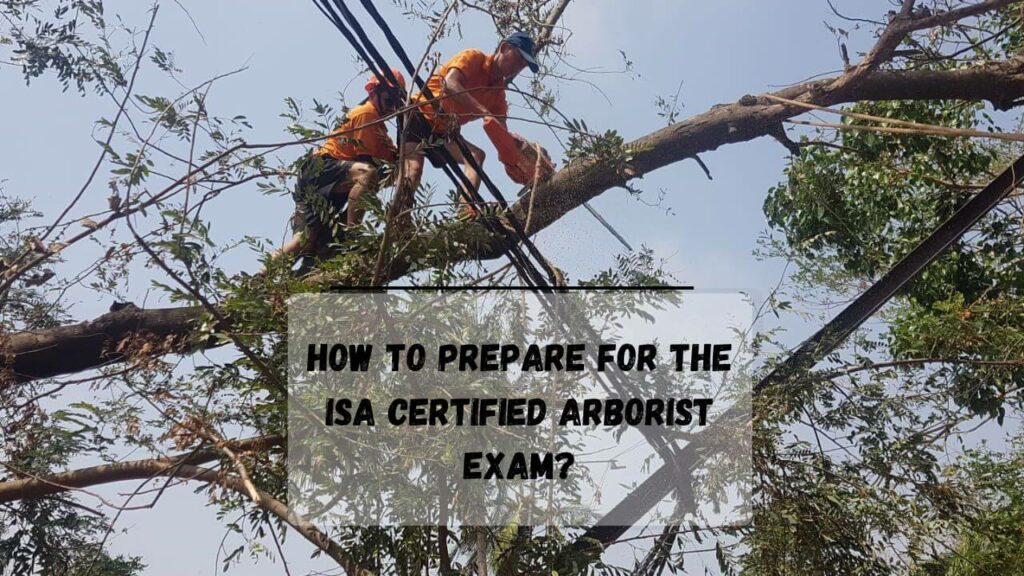 First, you should study all the topics that can set you up best for the exam. I have provided a few examples of such issues. You can also visit the ISA site for a list of recommended study material, including online courses, books, and videos.
You will also find many study guides and practice tests to help and analyze your preparation for the exam. When preparing and studying, it is also essential to get a hand on experience to prepare for the upcoming exam.
You should do internships, volunteer, and work as an arborist to get the hands-on experience needed for better preparation. You can also take a practice test that gives a good idea of where to improve and feel the type of questions you are likely to encounter when taking an ISA-certified exam.
Studying for the ISA certified arborist l exam can be overwhelming, too; I recommend you follow a few tips below.
It is better to break the topic and materials into smaller, more manageable sections to understand and retain the information better in your memory.
Set a dedicated study time aside for each day, so you don't fall behind.
Consider creating flashcards and notes to review regularly to stay on track.
Also, make sure to get some hand on experience through internships or volunteers.
Always be bold and ask for help from an experienced arborist to pass the ISa certified arborist exam and become one.
Anyone can pass this exam with little hard work and determination. Getting additional tips, insights, and guidance from experienced arborists is better to increase your chances of succeeding on the exam.
Recommended Resources
In addition to the list provided by ISA, I recommend you seek different study materials like test books, online courses, and study guides to gather more knowledge on arboriculture.
This type of study material will give you a more in-depth look at the subject which will be covered on the exam.
It would help if you also practiced questions to prepare and dedicate proper time. Do note that it can take several weeks to even months to study and prepare for the ISA exam, depending on your dedication and work.
FAQ
What Is The Passing Score For ISA?
The passing score for the isa certified arborist exam is 72%. If you calculate, you will have to answer 108 correctly out of 150 questions.
What Is The Highest Level Of Arborist?
The highest level of arborist certification offered by the international society of arboriculture is the board-certified master arborist.
It is a special certificate awarded to individuals who demonstrate exceptional skills and knowledge in the exam and commitment to education continuity. If you want to have the highest level of an arborist, be ready to work hard for months to even years.
How Many ISA Certified Arborists Are There In The United States?
It can be tough to tell how many isa certified arborists there are in the United States. Still, as of 2023, there are over 49000 isa certified arborists worldwide, with the majority located in the United States.
How Do I Prepare For An ISA?
To properly prepare for an ISA-certified arborist exam, the use of study material provided by ISA, including articles, tutoring books, online exams, and practice exams. Also, seek assistance and professional learning from an experienced arborist, or you can attend their classes to gain hands-on experience in arboriculture.
Is ISA Testing Important?
An ISA certification is a good exam because it offers well-recognized certification to professionals who are working in the arboriculture industry as a career. It is a critical test. A certificate will lead to better job opportunities and increase earning potential. 
Conclusion
Even though the ISA-certified arborist exam is said to be challenging, you can easily take and pass it with proper preparation and dedication. I have heard many colleagues who have taken this exam say it was difficult but worth the effort.
One friend of mine discussed and shared his opinion on Reddit (who has worked in the arboriculture industry for many years) said: the key to success is breaking the subject down into smaller section and reviewing it regularly..
if you try your best, with proper time management and education you may pass the exam in your first attempt with recognition and certificate. Even though the process is challenging, you will benefit from excellent opportunities and high earning potential after passing the exam.
To answer the question, yes, the ISA-certified exam can be difficult but achievable with exemplary dedication and preparation. If you're passionate about being an arborist and want to take your career to the next level, I recommend you take this exam and become certified.
If you find this article helpful, then consider sharing it. Thanks to you, your share will help many people take their careers to the next level. Do check our other practical guide on arboriculture. See you in the next post; till then, take care, and it sounds terrible.