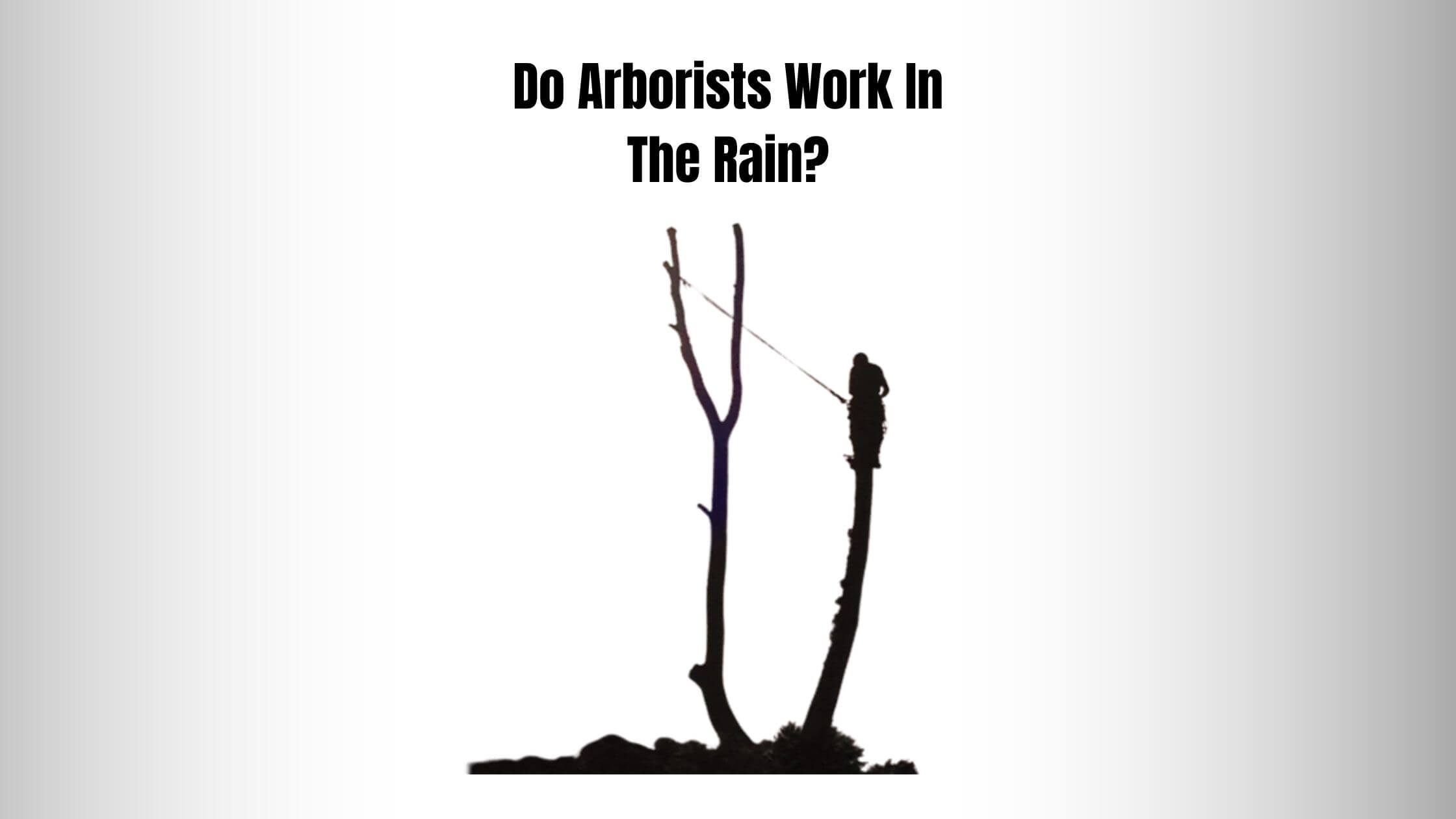 As an Amazon Affiliate, We Earn From Qualifying Sales. Read Full Disclosure Here

If you're worried about your tree maintenance on a rainy day, you might be wondering, 'Do Arborists Work In The Rain' If so, you've come to the right place! In this article, I'll help you explore the impact of weather conditions on tree cutting and the safety considerations that arborists are likely to consider when working in inclement weather with your garden or landscape tree.
Arborists may experience and put themselves at many risks when it is raining, from the dangers of slippery ground to the risks posed by falling branches and electrical hazards.
Thus, in this article, we'll also examine why arborists may refuse to work in the rain. After completing this article thoroughly, you'll better understand the factors that influence the decision of whether or not to work in wet weather.
Do Arborists Work In The Rain?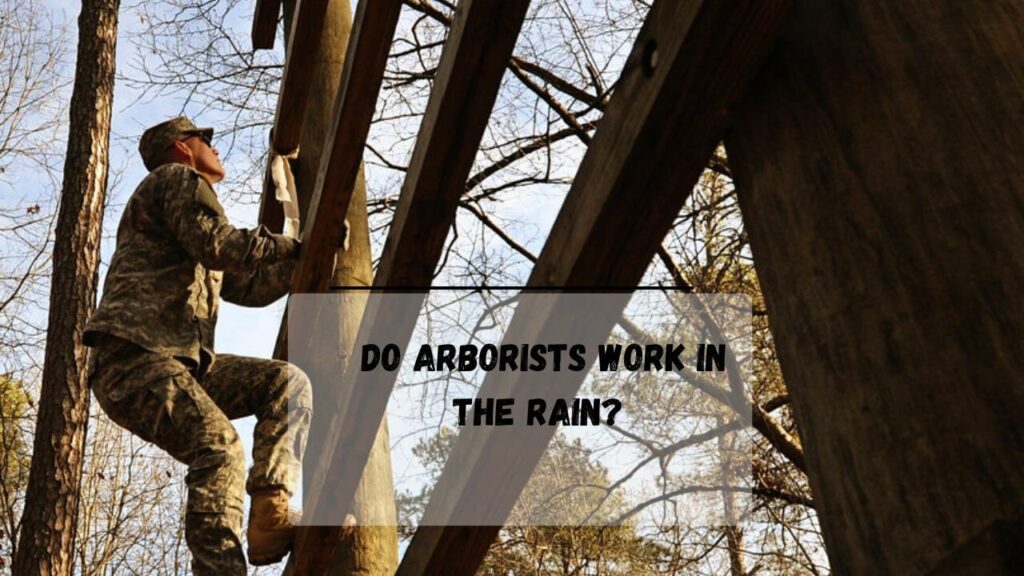 Yes, arborists work in the rain sometimes. Even though it might seem like rain would make it difficult or even impossible to perform these tasks like pruning, removing dead or diseased branches, and even removing entire trees if necessary, you should consult an arborist as their professional tree specialist.
As you might know, certified arborists have experienced tree specialists responsible for maintaining trees' health, safety, and appearance. No matter what you want to accomplish in your garden during the rainy season, a professional arborist will help you perform tasks like pruning and removing dead or diseased branches with appropriate safety gear and equipment.
Even though arborists may refuse to work in your garden in the rain, if a tree is in danger of falling and poses a threat to people or property, you should remove it as soon as possible, regardless of the weather conditions. 
In these cases, arborists should take action as their primary duty is to ensure tree safety and health and rule out potential hazards to anyone or anything surrounding them.
Arborists must wear waterproof gear and use specialized tools in wet conditions. An arborist must also work from elevated platforms that minimize contact with the damp ground.
5 Reasons Why Arborists Work In The Rain At All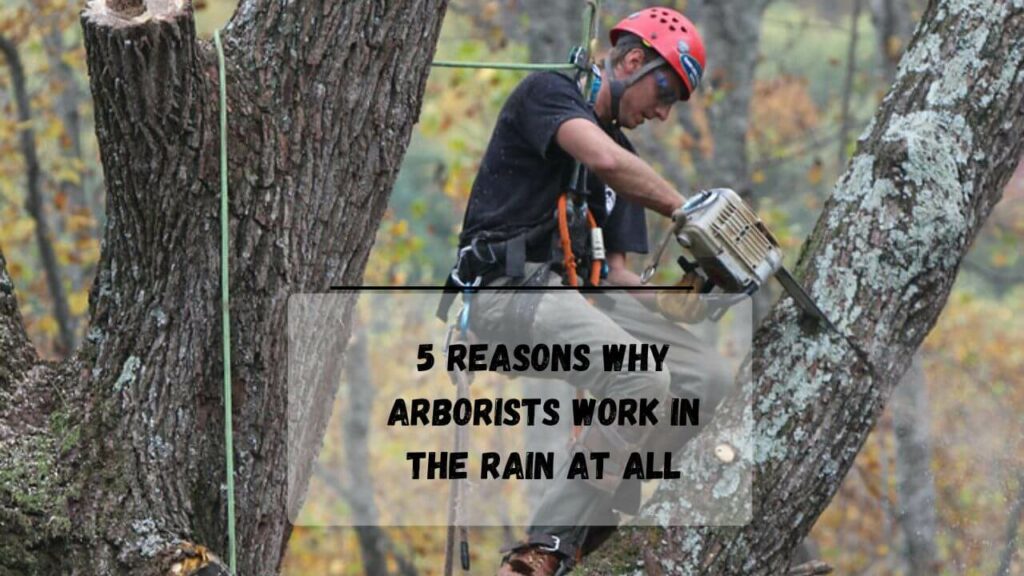 There can be many reasons an arborist chooses to work in the rain, even though it can be risky. 
We all know that wet conditions can make it easier to see specific tree problems, like decay or insect damage. Therefore, the owner or arborist may choose to work on that particular issue immediately, no matter the weather. 
For this secondary reason, many professional tree specialists find removing dead or diseased branches safer in wet conditions. This is because of the branch weight that is supported by the moisture and overall reduces the risk of breakage. 
Arborists may work in the rainy season if a particular tree or its branches poses a risk to the surrounding building fans or any other people. Since bad weather conditions can drastically affect the tree branches and r leave, es, especially during storms or windy conditions, you should always loot forages on tour trees that mathreatentthreatent or anyone.
As for the record, an arborist chooses to work in the rain if he is on a tight schedule or highly skilled with appropriate equipment. The highly experienced arborist will decide to work on tree Care, management, and maintenance no matter the condition or weather.
For the final reason, some types of tree care, like fertilization, are more effective in wet conditions because fertilizers penetrate better in the soil, and the tree roots better absorb the nutrients.
Even though working in wet conditions can be challenging, arborists are highly trained professionals equipped to handle these conditions and keep themselves and others safe.
Therefore, no matter if it's a light rain or a heavy storm, you can consult an arborist who can make necessary adjustments with the right gears and equipment.
Regarding bags, arborists also need unique protective clothing during the rainy season that suits their needs and prevents any risk from happening. Let's talk about what are the essential arborist's rain gear. 
Arborist Rain Gear
Since arborists are often called upon to perform tasks like pruning, trimming, and tree removal, it is essential to wear the proper gear depending upon the condition to keep themselves physically protected and prevent anytime is to the surrounding while doing so the work.
Being an arborist, you must have the right gear to protect yourself while working. During the rainy season, one essential pieces of equipment you will need is proper rain clothing. 
Since arborists need to keep themselves dry & comfortable while working on your property's trees in wet conditions, it is essential to choose the proper clothing.
Most arborist rain gears are made of waterproof & breathable material, which often includes features like reinforced knees, adjustable hoods, and extra pockets. When choosing arborist rain gear, it is essential to look for high-quality, durable materials that can withstand the demands of arborist work during bad weather, especially in heavy rain.
Suppose you are the one who is looking for appropriate arborist rain gear. In that case, I will recommend you consider features like ventilation and comfort, along with the level of protection those provide against wind, rain, and cold.
Since there are several types of arborist rain gear available, including rain suits, jackets, and pants, it can be unclear to choose the right one because Each type has its specific features and benefits.
In this case, I recommend you choose the right one based on your particular needs and the work you will perform. For example, suppose you will climb trees in that case. In that case, it is better to have the right arborist climbing gear specially designed to withstand heavy rain and support perfect balance during accidental preventive slip-off.
Depending on your specific need and the type of work you will be performing during rain, below, I am giving you a few popular brands that offer a wide range of appropriate arborist gear, including standard and heavy-duty options.
Husqvarna
STIHL 
Arborwear. 
Arborist Rain Jacket
If you are an arborist, you already know how important it is to have the right gear for the work you will perform during the rain. It would be best if you chose a high-quality rain jacket that keeps you dry and protects you from the elements, like wind and cold.
I highly advise you to consider looking for a coat made from waterproof and breathable, such as Gore-Tex or similar, that guarantees to keep you dry and comfortable in even the wettest conditions. Ensure the jacket has a hood to keep the rain out of your face and neck, along with added protection.
When it comes to choosing a rain jacket, you will find many types of options to choose from. I also recommend you avoid the classic poncho style. Even though these types of jackets are easy to put on and take off, they can be a bit challenging for you to move around & work in.
You should wear a traditional jacket style, offering better mobility and protection. However, this type of jacket is likely to be more expensive. Out of so many options, knowing which brand and model you should choose can be confusing house.
I recommend you choose the one that fits your needs and budget. Below I am giving you a few options to check select from. All these jackets are of high quality and offer a variety of features at different price points, so you're sure to find one that works for you. All the jackets below are incredibly comfortable and won't restrict your functional movements.
Arborist Rain Pants
After getting an appropriate arborist rain jacket, you will require arborist rain pants specially designed to work in wet conditions. These pants are also made from waterproof and breathable materials, giving you ultimate protection from rain and wind while allowing sweat to escape.
It would be best if you mustered many things before choosing arborist rain pants, like the comfortable fit, flexibility, durability, and ability to layer over other clothing. While shopping, you are likely to find many arborist pants, but not all are ideal.
Below I am giving you a few of the best arborist rainpants for rain, cold weather, and warmth. The options mentioned below are great all year around gears. All these come from reputable brands known for their quality, durability, and comfort. 
Arborist Rain Boots
Arborists must always keep their feet dry and protected while working to prevent slipping off from branches. Therefore, they need specialized arborist rain boots that are durable, comfortable, and equipped with features that support their work.
I recommend you look for durability, comfort ness reliability, traction, and support when choosing a rain boot for an arborist. Since arborists will be working in wet and slippery conditions, they need rain boots with a good grip rch, and ankle support to help prevent fatigue and injury.
You'll find many boot options made from neoprene rubber and more when it comes to different types of arborist rain boots. Note that Each has its benefits; consider your/arborist's specific needs and preferences.
Again, I am giving you a few best arborist rain boots from a reputable brand known for producing high-quality, durable rain boots that are explicitly designed for arborists.
FAQ
Are Arborists Required To Work In The Rain?
No, it is never required for an arborist to work in the rain, especially when there is a risk of injury and damage. However, it also depends on the job requirements and the specific circumstances. Some tasks may need to be performed in the rain if any tree branches are affected by the weather/broken, and there is a risk of it falling off anyone or anything. 
What Gear Do Arborists Need To Work In The Rain?
Arborists who work in the rain need to wear waterproof and breathable rain jackets, waterproof pants, gloves with better grip, and waterproof boots. The arborist will also need waterproof equipment covers to protect their tools from rain. 
What Brands Make The Best Arborist Rain Gear?
Many brands are known for making arborist rain here, but not all are the best. Some popular brands known for producing high-quality arborist raingear include Husqvarna, Stihl, Arborwear, Carhartt, and Helly Hansen. Depending on your specific needs and budget, you should choose one. 
Conclusion
I tried my best to give you the answer to the question: do arborists work in the rain, and if yes, what specific gear do they need to perform any particular task? It is essential to call only an arborist in the shower if a particular tree threatens the surrounding environment or properties.
Since big & tall trees can drastically get affected by heavy winds, rainfalls, and lightning, maybe you need to remove a broken branch that is still attached to a tree, posing a risk of falling off to your property or neighbors.
If you find this article helpful, then consider sharing it. Your share will help many people learn when to consult an arborist in the rain and what specific tasks an arborist can perform if it rains heavily. Check our other helpful guide on arborist work in the winter. See you in the next post. Till then, take care and goodbye.